Radius Series MEH Electro-Hydraulic Actuator
The Radius Electro-Hydraulic Spring Return actuators are specifically designed for use on quarter turn valves and dampers. The unit utilizes a hydraulic spring return actuator assembled to a compact hydraulic unit. When electric power is lost, the springs in the actuator move it to a fail-safe position. The same electro hydraulic unit is used for all models. The unit has many control options such as fieldbus protocol, partial stroke testing devices and 4-20ma modulating positioners.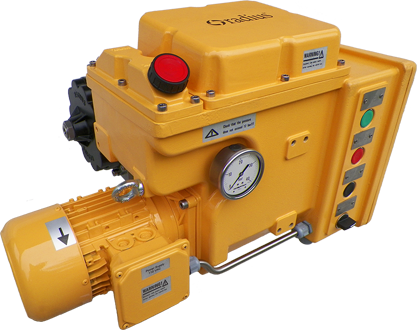 Features

Mounting surfaces according to ISO 5211 and VDI/VDE 3845
Standard NEMA 4, 4x. Wiring from the motor to control box protected with stainless steel tubing.
The circuit pressure remains stable in spite of wide ambient temperature swings.
Multiple combination of springs allow a wide range of torques for one model.
Inner cylinder has been completely honed for long service life.
Internal hydraulic porting eliminates leaking. No tubing, fittings or hoses.
Easy maintenance with Smart Access to the hydraulic and electrical controls.
Easily upgradable controls.
Smart parts (same electro hydraulic unit is used for all models).
Temperature range: -22° F to 176° F

Options

NEMA 7 and ATEX
For larger torques, scotch yoke electro hydraulic actuators are available.
Low temperature versions down to -58° F
Stainless steel drive shaft.
Special coatings for very high corrosive environments.
Optional manual overrides attach easily to the actuator. Both manual gear boxes or hydraulic hand pumps.
Fast closing time.